Extra Curriculum Sport
Please find below the sign up links and timetable for Term 1. Clubs will run from Monday 11th September 2023 until Friday 8th December 2023.
Your child will find out if they have been successful in getting a place in the club by looking on the club register board, which is just outside the sports hall. The clubs for Monday will be displayed on Monday 11th September before school. The rest of the clubs for the week will be put up the day before. Your child needs to walk towards the sports hall through the corridor and they will see the boards there.
The links are live and active until Friday 15th September.
If your child is successful in gaining a place, they will go on to the club list, if not, there will be a waiting list created and shown to students. If your child fails to attend 2 weeks of clubs in a row, they will lose their space and a child on the waiting list will be given the place.
If your child has a club in the sports hall, they must wear trainers for this. Your child can come to school in their PE kit on days that they have sports clubs.
Please note that some clubs have a limit for safety reasons.
If you have any questions about Sports clubs at Bolder, please email your child's PE teacher firstly, or the Head of Department (nquinnell@bolderacademy.co.uk)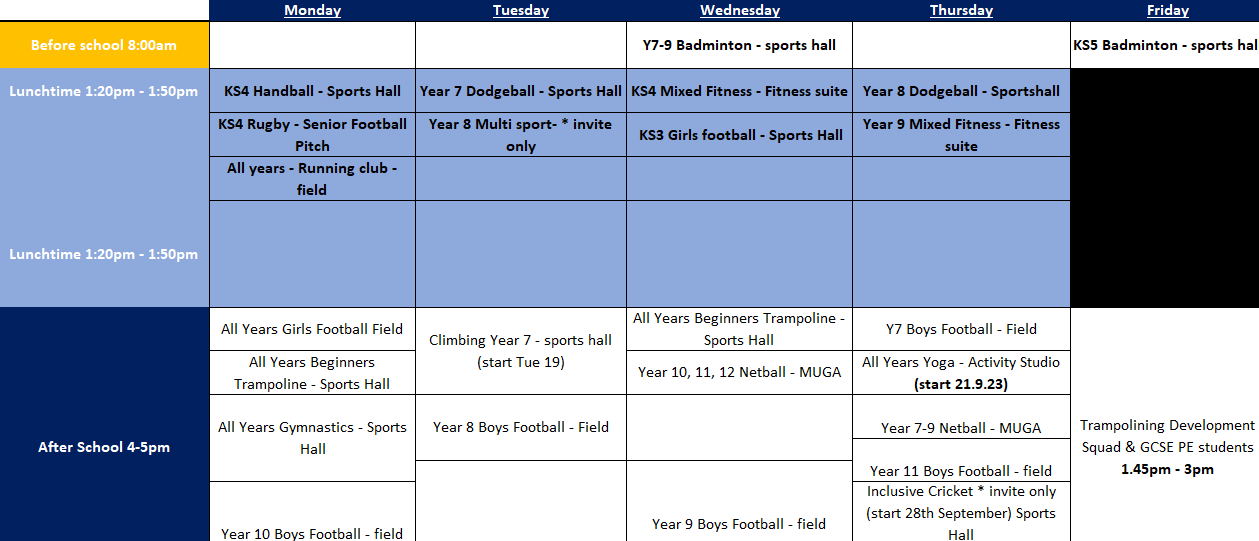 To book a place, please complete the booking form using the following links.
Monday
All Yrs Trampolining beginners
Tuesday
Wednesday
All Yrs Trampolining beginners
Thursday
Friday
GCSE PE Trampolining and Development Squad
If your child has enjoyed taking part in an activity inside school, we encourage participation outside of school.
We have been fortunate enough to create and establish links with these local sports clubs
Trampolining – London Trampoline Academy