Extra Curriculum Sport
Please see the extracurricular sports programme which is running from Monday 17th January until Friday 25th March 2022. All sessions require a sign up process. Please see the individual links below which must be completed by a parent/carer.
Your child can do as many clubs as they like. Places will be available on a first come first served basis. Please note morning clubs differ in start times throughout the week.
PE staff will be contacting students via their school email accounts to inform them if they have been successful in gaining a place in their chosen clubs during the week of January 10th, otherwise students will be placed on a waiting list.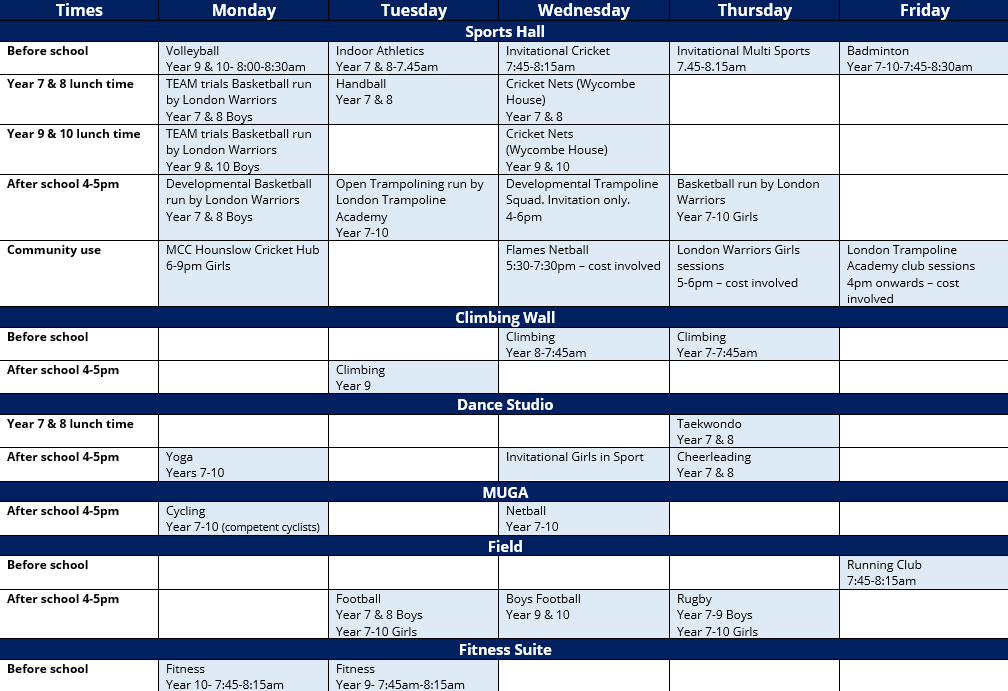 To book a place, please complete the booking form using the following links. If you are unable to access any of the forms please email nquinnell@bolderacademy.co.uk to be placed on the waiting list.
Monday
Year 8 & 9 volleyball club – Form
Year 7 & 8 Boys Basketball team trials – Form
Year 9 & 10 Boys Basketball team trials - Form
Year 7 & 8 Boys Basketball development session- Form
Year 7-10 Cycling group – Form
Year 10 Fitness – Form
Tuesday
Year 7 & 8 Indoor Sports Hall Athletics – Form
Year 7 & 8 Handball – Form
Year 7-10 Trampolining – Form
Year 9 Fitness – Form
Year 7 Boys Football – Form
Year 8 Boys Football – Form
Year 7-10 Girls Football - Form
Year 9 Climbing - Form
Wednesday
Year 7 & 8 Cricket nets - Form
Year 9 & 10 Cricket nets – Form
Year 8 Climbing – Form
Year 7 Netball - Form
Year 8 Netball - Form
Year 9 Netball – Form
Year 10 Netball - Form
Year 9 Boys Football - Form
Year 10 Boys Football – Form
Thursday
Year 7 – 10 Girls Basketball club – Form
Year 7 Climbing - Form
Year 7 & 8 Taekwondo - Form
Year 7 & 8 Cheerleading club – Form
Year 7, 8 and 9 Boys Rugby - Form
Year 7-10 Girls Rugby – Form
Friday
Year 7-10 Badminton club - Form
Year 7-10 Running club - Form
If your child has enjoyed taking part in an activity inside school, we encourage participation outside of school. We have been fortunate enough to create and establish links with these local sports clubs
Trampolining – London Trampoline Academy
Netball – NBNC Flames